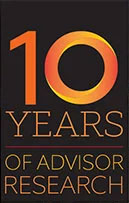 Current Insights from a Decade of Advisor Research on Investment Management Trends
The Race to Scalability 2020
This marks the 10-Year Anniversary of The Race to Scalability research. For the past decade FlexShares has studied how and where advisors are finding efficiencies to better scale and grow their businesses, enabling them to create a better client experience.
The body of data that has resulted from these surveys provides a valuable long-term look at how values, practices and outcomes have changed over a decade of rapid change for the advice business. Results of the 2020 survey add to this store of knowledge and are intended to provide insights to help advisors create efficiencies within their business and to help inform decisions when considering the use of external investment management.
GET 10 YEARS OF RESEARCH AND INSIGHTS
Register and download our white paper, The Race to Scalability 2020: Current Insights from a Decade of Advisor Research on Investment Management Trends.
For Financial Advisors: This paper focuses on how your peers are structuring their businesses for better scalability and service.

For Asset Managers: Our long history of research on advisor use of third-party investment managers provides data that can help you better understand this market.

The Full Story
Get a complete summary of the survey: What it covered, who participated, and where advisors are finding efficiencies to grow their business and spend more time with clients.
Register for Full Results
Sign Up for More Insights