Key Findings
From financial acumen and confidence, time constraints and lifestyle goals, high-net-worth primary breadwinners – both women and men – have a lot in common. Learn what these investors value.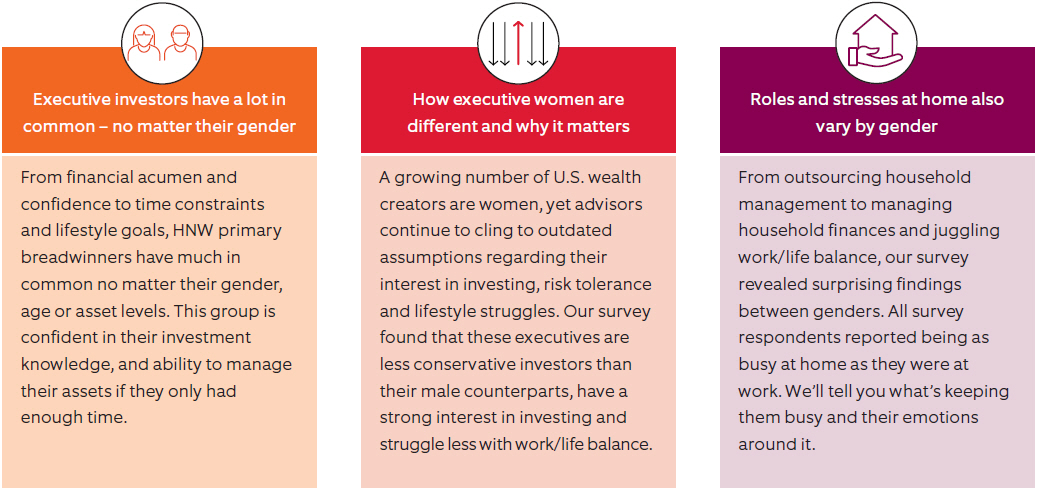 HOW OUR RESEARCH IS DIFFERENT
This is not just another report on wealthy women! It's primarily about a fast growing segment of executive women and their male counterparts who are primary breadwinners. Our research provides important context about how this cohort thinks about wealth management and the experience and services they value from their financial advisors. We also dive deeply into some long-held beliefs on gender preferences regarding investments and lifestyle — and whether they still serve as useful guideposts.
Our research focused on executive women who are primary breadwinners. Most industry research suggests that all women are wealthy as the result of a wealth transfer. While this is true for many, our research focused on a fast growing group of women wealth creators with high levels of earned income and investable assets.
We surveyed men for context and report on the male viewpoint. While many reports tell us what women want, the research rarely includes a comparative male viewpoint. To get an accurate and meaningful picture of how the needs of women wealth creators are different, we talked to their male counterparts and learned a lot.
Our findings don't align with gender stereotypes. Whether on risk attributes, investor objectives or lifestyle preferences, our findings didn't fit neatly into a stereotypical gender-specific framework. We believe this directly impacts why an advisor may want to reconsider assumptions around their HNW client service model. We'll present gender-specific data and actionable takeaway.