Our research indicated that while there were some variances among executives by gender and age, for the most part, this cohort is quite similar. They are very much engaged in the wealth management process and share similar views on a variety of lifestyle attributes.
#1 High Levels of confidence about finance and investmentS
Respondents were confident in their financial and investment acumen as measured by a variety of inputs.


---
Financial Acumen
When asked to rank themselves on a scale of 1-10 in financial confidence, wealth creators rated themselves above average on eight financial activities.

---
Investment Knowledge
More than half of respondents rated themselves a nine or 10 as it related to their investment knowledge. As their level of investable assets increased, the more likely they were to express higher levels of investment knowledge.

#2 Shared lifestyle goals and challenges
Lifestyle was an important consideration in the wealth management experience of HNW primary breadwinners.


---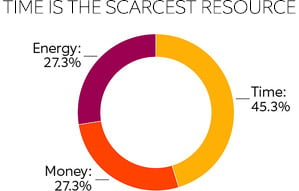 Time was what HNW primary breadwinners of both genders considered their scarcest resource, followed equally by energy and money.
Investing for lifestyle is a top priority
When considering investment performance, achieving lifestyle goals ranked nearly as high as beating market returns and generating steady income as an indicator of strong performance. Among their essential financial objectives, 21% of wealth creators said they want to minimize work and maximize their purpose.


---
HOW EXECUTIVES VIEW PERFORMANCE

The survey asked: "When you think about your investment portfolio, which of the following would indicate strong performance?


Feelings about household income
Wealth creators contribute 82% of the household income. One in four (24.5%) are the sole contributor with men's average contribution being 87% vs 76% for women.


Respondents cited that their spouses are comfortable with the income they contribute as the primary breadwinner. However, respondents were not as satisfied with their partners' financial contributions. Nearly two-thirds (65%) of HNW primary breadwinners wanted their spouse to contribute more.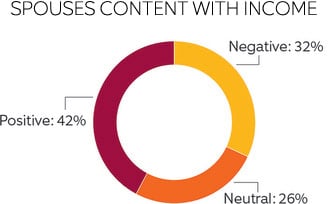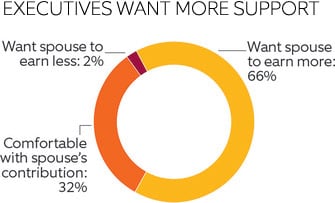 #3 Executives Contribute More income, take on More at Home
These HNW primary breadwinners told us that they are taking on more household duties than their partners.
Most HNW primary breadwinners reported assuming more responsibility than their partner on every household function.
Respondents also reported owning more personal financial responsibility.